Girl and Goat
In the foothills of the San Bernardino mountains lies
Oak Glen
, a farming community with a history. Best known for its apple orchards and autumn apple festival, that festival season has expanded over the years to include berry picking in summer, the apple blossom festival in April, and a Christmas light display, making it almost a year round event.
Toffee Apples
Throughout the glen one finds a common theme of historical preservation, from the ever present antiques and traditional costumes to elaborate reenactments of historical periods. It is possible in one day to catch a fish, milk a goat, watch a pig race, see a marionette show and many folk music artists, pick whatever crop is currently in season, and (in season) make your own cider all the way from a bushel of apples to the gallon jug.


Candy
These, however, are only the obvious features of the place. Through every door, round every corner there are surviving (or in some cases restored) relics of the country's agrarian past. It is very hard to convey the overall impression one gets when surrounded by so much intentional and unintentional history. Although tourism has undoubtedly become a permanent factor in the Oak Glen economy, commercialism has not spoiled the flavor of the glen. One can still buy a bag of horehound candy for less than a dollar. Many other old fashioned candies, impossible to find elsewhere, are here presented in the traditional way (with a few concessions to current health requirements).


Eating Toffee Apples
Growing up with the "Little House" books, and being an avid reader of women's journals, especially those of the Oregon Trail pioneers, I feel a resonance with the spirit of Oak Glen and in that spirit my sister Heather and I enjoy joining the indigenous folk and dressing in costume, in essence becoming a part of this living anachronism.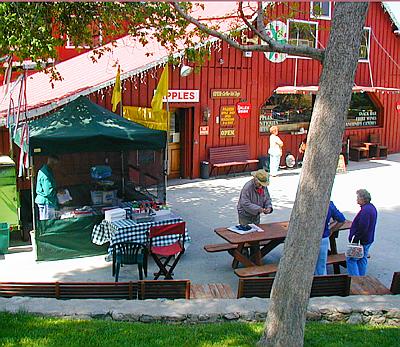 Parrish Ranch setting up for a big day
Parrish Ranch is the first large complex one encounters when entering Oak Glen coming from Yucaipa. Here on the expansive plaza, one can often hear one or another flavor of country music or stepping into the sprawling store, feel suddenly overwhelmed by the preserves, spices, wines, and local crafts.
Yodeling Merle
We enjoyed "Yodeling Merle" here during the apple blossom festival.
Blackberries
In August, we love to pick raspberries and blackberries at Los Rios Rancho.


Chestnuts straight from the tree
At Los Rios they also sell chestnuts from their own chestnut trees. It was very interesting to see how chestnuts actually grow.
Raspberry Picking at Los Rios Rancho
Oak Glen gives the impression, from the inside, of a limitless expanse of unspoiled beauty, and as we wind our way between orchards, forests, and homesteads, I feel exhilarated (if also a bit carsick). I look out of the open window of our ancient van, and am overwhelmed by the glorious feeling of freedom I always get from wild open spaces. Yes, oak glen feels immense. On the other hand, wandering aimlessly through a shop, looking out over the small houses, or chatting with the locals, the place has the cozy, serene air of a tiny community in which everyone knows one another and nobody bothers to lock the door.
Continued on
Page 2