Wistfulvistas Reviews
---
Journey with us:
Season Special:
Christmas and Yuletide
Apple Country
Thai Incense Search
Oak Glen California
Thailand Condos
Thailand Escape
Thailand Snake Farm
African Safari
Twisted Tryst
Roundabouts

---
Ruminations
Visit from Ernest
Thai Silk
Agriculture
Impermanence
Consumerism
War and Politics

---
Reviews
Oak Glen, California
Solvang, Fairytale Destination


Long Ago but not so Far Away
Continued from Page 2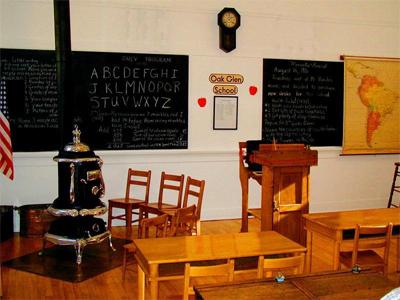 One Room Schoolhouse

A one-room schoolhouse museum near the Rileys' Farms is free to visitors. As we approached the schoolhouse, I imagined that I could feel the mood of that dutiful child plodding her weary way unwillingly to school some 80 years ago.




Imagining what it was like

In the classroom, arrayed with inkwelled desks and chairs built to fit the various sizes of children from age 8 to 16, I could almost hear a lingering vestigial sniggering, singing, and whining, from the inmates and even the pent-up jubilation upon release.

I have to admit that these impressions are drawn more from an academic abstraction than from direct experience. My sister and I are homeschooled and have never been forced to undergo the regimented grind inflicted by rigid if well-meaning pedants upon classes of hapless youth.




Symbols of authority

Our parents are both teachers and extremely serious about education in a highly haphazard way. We study when the mood inspires us.

Still, on field trips like this I have the opportunity to imagine what it must be like. There was no rack of canes upon the wall, but they were no doubt used, if not here, certainly in many such settings.




What is going on in his mind?

The glen is home to a wide variety of animals, the line between functional beasts of traditional agriculture and those present for tourism authenticity blending towards the indistinguishable.




Heather catching trout in the stocked pond

Mountain Town, a store come museum, with zoo and petting zoo, pig races, and fishing hole, shares a complex with the variety shops of Oak Tree Village.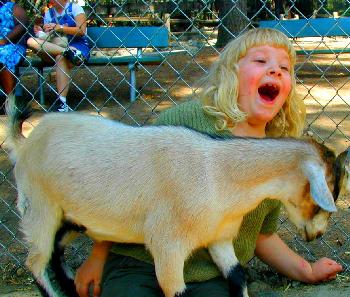 One small goat stampede

From learning how to milk a goat to holding a kid, catching a fish, and cavorting with all manner of barnyard animals, the petting facilities of Oak Glen permit the child of malls, McDonalds' and "milk comes from a carton" to experience a time that has been all but superseded.




Animal friends

Becoming personally acquainted with the source of milk and the "quarter pounder," one has occasion to reflect a bit on the role that we have forced upon these noble friendly creatures. Of course our ancestors of the farm have relied heavily on their species for centuries, but the vast rift between the treatment of "Bessie" and the handling of livestock in modern agribusiness deserves to be measured not only with decades and profit margins, but also with some moral circumspection.


No doubt tourism has shaped the face of Oak Glen in recent years but one conclusion is inescapable: Tourism has, in this instance, served more to perpetuate a valuable tradition than to corrupt it. One can not but respect a venue that makes canning jars into a tourist commodity.

Apologies to all the other farms, restaurants, and shops of Oak Glen that have here been omitted. I sincerely hope to visit them all some day.







---