Location of Kenya




Kenya

The East African country of Kenya has traditionally been the launch point for African travel since earliest colonial days. Seaport, Mombassa, and capital, Nairobi, are legendary names in journals of Africa travel. Kenya has also been the setting for much African memoir and literature, notably, Out of Africa by Isak Dinesen, Born Free by Joy Adamson and The Flame Trees of Thika by Elspeth Huxley. As a former British colony, the official language of Kenya is English.

What you probably will not read elsewhere

Kenya is, however, probably more dangerous now than in in the early days. With the growth of drug trafficking and money laundering, modern slavery, widespread corruption (see CIA World Factbook entry), poaching, and diseases, including drug resistant maleria (See World Health Organization Kenya page), a Kenyan adventure should be taken only with circumspect preparation and a full knowledge of the dangers involved. These aspects of travel in Kenya are not covered in any depth in the offical Kenya tourist board site nor in most informational Kenya travel sites (See Kenya Links). Tourism is an important industry in Kenya, however, and much is done to shield visitors from possible uspleasantness.
Where Safaris Started
The word "Safari" originated in Kenya where it means "Journey" in Kiswahili. A country including several different geographical regions from 300 miles of pristine beaches to Mount Kenya and the great Rift Valley, Kenya is a scenic feast and features an amazing variety of wildlife (see Kenya Wildlife).
Largely unchanged by the passage of time, the Kenyan wilderness is the stage for some of the greatest wildlife spectacles on earth, from yearly migratory heards of wildebeest to fast flocks of flamingoes and other fowl. There are 59 national parks and game reserves in Kenya and 42 distinct native cultures, some of which remain little altered by the modern world. Rough percentages of indiginous peoples: Kikuyu 22%, Luhya 14%, Luo 13%, Kalenjin 12%, Kamba 11%, Kisii 6%, Meru 6%, other African 15%; Asian, European, and Arab 1%
Endangered Species
Many Kenyan native species are endangered, including the black rhino, sea turtle, Grevy's zebra, sitatunga, and the beautiful Kikuyu Colobus monkey with its shaggy black and white coat. These are still to be seen in their native but protected environments.
Trekking can be done with a number of modes of transportation including hot air balloon or horse or camel back.

African Sunset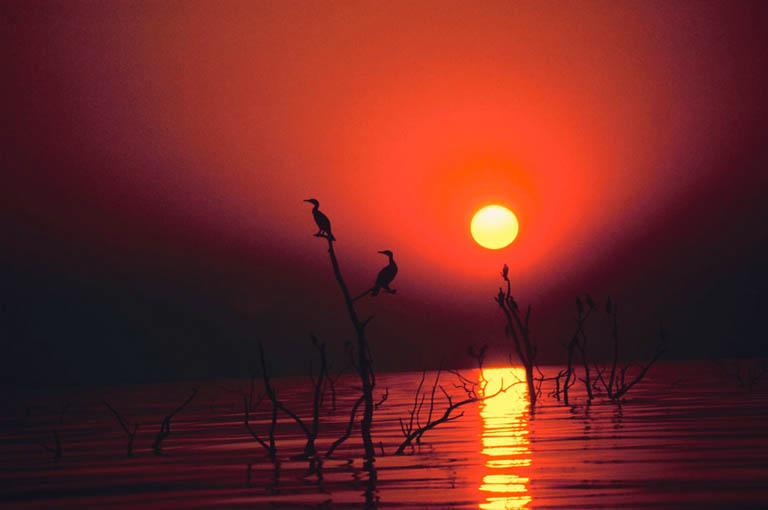 Bookmark this page to: