Kenya Wildlife

Five animals dominate the popular image of Kenay wildlife: Lions, Elephants, Buffalos, Leopards, and Rhinoceros'. To the surprise of many, the buffalo is actually the most dangerous of these animals. A sobering experience, travelling and camping among these beasts, one is constantly reminded that they have been dominating the countryside for thousands of years -- threatened only recently by the greed and encroachment of man.

Besides these five must-sees, there are many others including wildebeest, giraffes, zebras, hippos, warthogs, and myriad herbivorous ungulates including the largest of the antelope, the giant eland.
This is a List of Animals which may be seen in Kenya. A qualified guide will be able to identify these animals and give information on their behavior. For detailed information on the wildlife, a good field guide is invaluable, and best purchased before your arrival. (The Safari Companion is one of them) Kenya covers two major Wildlife zones, so certain species are only found in the northern and arid areas. Due to having two rainy seasons, Kenya is able to support higher densities of game than in southern Africa, making it excellent for game-viewing opportunities.
Here is a partial list of Kenyan Animals
Carnivores
Lion, Leopard, Cheetah, Caracal, African Civet, Large-Spotted Genet, Serval, Banded Mongoose, Wild Dog, Black-Backed Jackal, Common Jackal, Bat-Eared Fox, Spotted Hyena, Striped Hyena and Aardwolf.
Primates
Common Baboon, Vervet Monkey, Sykes Monkey, Kikuyu Colobus Monkey, Bushbaby.
Antelopes
Roan Antelope, Sable Antelope, Oryx, Waterbuck, Common Wildebeest (Gnu), Hartebeest, Topi, Eland, Greater Kudu, Lesser Kudu, Bongo, Sitatunga, Bushbuck, Thompson's Gazelle, Grant's Gazelle, Gerenuk, Impala, Bohor Reedbuck, Mountain Reedbuck, Klipspringer, Steenbok, and the tiny Common Duiker and Dik-Dik.
Other Herbivores
Elephant, Black Rhinoceros, Southern White Rhinoceros, Rock Hyrax, Hippopotamus, Cape Buffalo, Giraffe, Reticulated Giraffe, Rothschild's Giraffe, Hartman's Zebra, Warthog, Giant Forest Hog, Aardvark, and many more.

Drums of Nigeria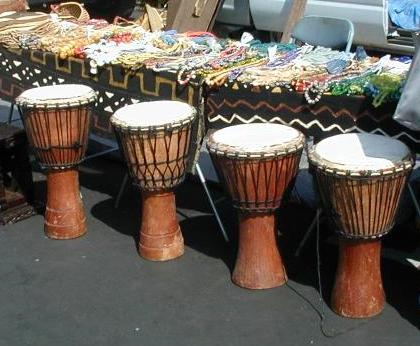 Bookmark this page to: